KW BAUFINANZIERUNG
for private individuals –
Why KW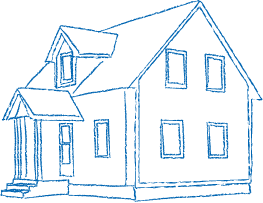 It's all right to dream!
Never pay rent again? Or even collect rent? In any case, build up net worth month after month, and set the course for a carefree retirement. This path doesn't have to remain a dream; but it does have to be well thought out, so it doesn't turn into a nightmare! Just like your house or apartment, financing should fit you and your individual situation like a "tailor-made suit" - now and for the future!
Hardly any other decision in life is of similar economic importance to the financing of a property. If you want to be permanently satisfied with your investment, you need the security of having found the optimal solution. And we offer you this security.
A clear view in the mortgage jungle!
As an independent expert, the KW BAUFINANZIERUNG team will advise and accompany you on the way to your initial or follow-up financing. We are mortgage brokers dealing exclusively with mortgage solutions and are free in our choice of lending institutions.
Our employees have multiple years of professional experience with banks or property development companies. Through daily communication with customers, banks and real estate agencies, we are familiar with goals of the mortgage market.
We are committed exclusively to you and your interests. We will work out the financing concept with you and compare it in advance with the current loan guidelines of the relevant banks. We accompany you from the initial planning phase to the final payment. In order to avoid surprises!